Serving the customers since 2013
Cryo-EM
Structure Determination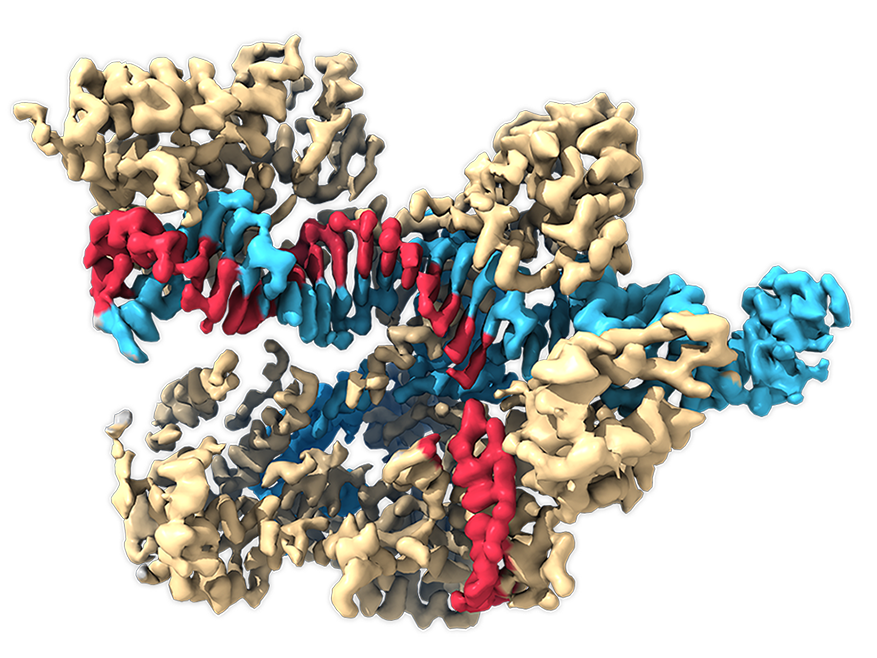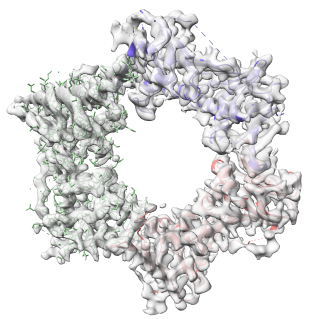 Drive your drug discovery projects towards success.
Benefit from our 10-year expertise in industrial Cryo-EM.
Our team has in-depth understanding of structure determination within the structure-based drug design campaigns. Our projects, pricing and schedules have evolved to optimally meet these needs.

Fastest route to experimental atomic ligand binding data
Our library of pre-optimized targets provides quick and risk-free route to experimental determination of atomic-level data of your ligands.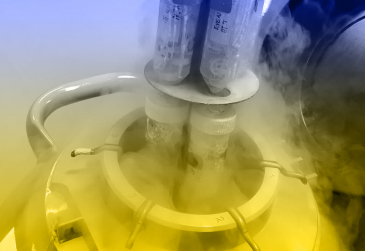 Zero downtime operation guarantee
Four state-of-art microscopes equipped with Gatan K3 or Falcon 4 detectors bring you unprecedented acquisition speed and reliability for even the most time-critical projects.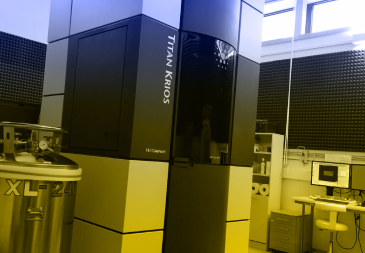 Comprehensive success portfolio
Our portfolio of successful projects spans all major industrial target complex classes including soluble proteins, membrane proteins, cas9 complexes, filamentous proteins, biologics or DNA origami.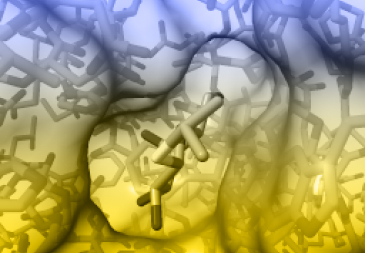 Services
What is known about your target?
We offer three plans, based on whether the target is in our library, published, or entirely novel, which affects the workflow's steps, difficulty, and outcome predictability:
CryoLibrary
In this plan we provide the target complex sample from our in-stock library of Cryo-EM-ready, pre-optimized systems. You only supply your ligands and we proceed straight to high-resolution reconstruction and deliver the structure and model within just a couple of weeks. The entire workflow of each sample from the library has already been optimized and is structure-determination ready.
The fastest way to Cryo-EM structure.
All you need is to supply the ligands.
Risk-free with high resolution structures guaranteed.
Experimental atomic-level ligand binding data in 2 to 3 weeks.
Targets in our library
We are constantly adding new items to our library of pre-optimized, in-stock targets that are immediately ready for Cryo-EM structure determination with your ligand, so be sure to get in touch below. Our current list encompasses these target families:
HOT CRBN/DDB1 E3 ligases and substrates
Serine/threonine kinases
Glutamine synthetases
Pyruvate kinases
Glycoside hydrolase
SARS-CoV-2 glycoproteins
CryoLibrary Case Studies
High-resolution CRBN/DDB1 E3 Ligase Ternary Complex
About the target
CRBN/DDB1 is a dominant E3 ligase system used in Targeted Protein Degradation (TPD). Structures of the ternary complexes consisting of the E3 ligase, small-molecule degrader and a neosubstrate are of utmost importance in rational development of TPD-based programs.
Until recently, however, these systems were unreachable to both X-ray crystallography and cryo-EM owing to their flexiblity, transient nature of the ternary complex formation and high-propensity to air-water interface. However, due to the recent scientific breakthroughs and our customed-developed workflow, we are proud to offer them immediatelly ready for structure determination through our CryoLibrary plan.
Results
In this case study we show how a sub 3Å map of ternary complex consisting of full-length CRBN/DDB1 ligase, IKZF1 substrate and an iberdomide molecular glue can be screened and reconstructed. We show that all the detail required for moving your TPD-based program further can be provided, including model of the ligand, its binding site as well as substrate interacting residues and degrons.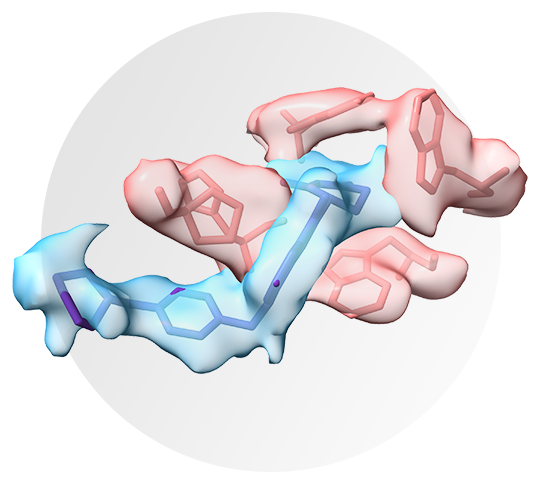 Novel Plant Glutamine Synthetase Structure
About the target
Plant glutamine synthetase is 40 kDa homo-decameric enzyme that catalyzes the incorporation of ammonia into glutamate to generate glutamine, acting as a key enzyme in the nitrogen metabolic pathway. As such it is an important inhibition target in the area of plant growth and development. Glufosinate, a US-registered broad-spectrum herbicide is an example of commercial glutamine synthetase inhibitor.
Results
This case study shows how we determined a 2.3Å map of this complex that allows a precise model construction, including waters and small side chains. Additionally, we show that the conformation of the cryoEM map differs significantly from an X-ray crystallography map suggesting different organization of the multimeric complex in close-to-native cryoEM conditions.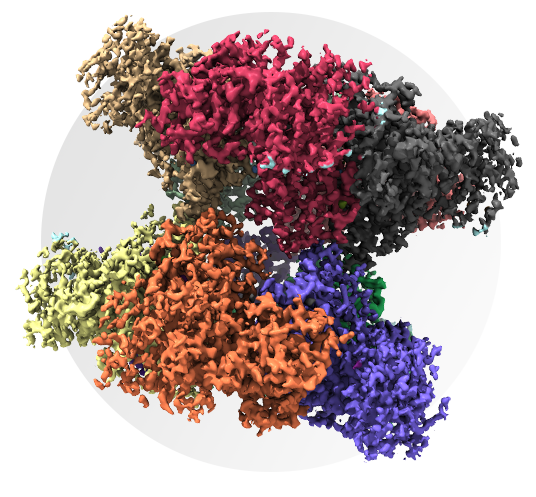 CryoExpert
Are you interested in a target that has published Cryo-EM structure but can't find it in our CryoLibrary? With our CryoExpert service plan, we will determine the high-resolution structure using the published protocols, and we will optimize them if necessary for your application. Our extensive experience with various target classes, along with a milestone-based workflow, ensures a smooth and efficient process.
Suitable for wide range of targets with published or internally established protocols.
Use your established target production or have it produced from our trusted partners.
Extensive portfolio of solved structures guarantees high success rate.
Complex and ligand map and model in 5 to 7 weeks.
Our Portfolio
Our extensive experience with majority of industrial target complex classes ensures high reproducibility of the published protocols:
soluble proteins
membrane proteins
cas9 complexes
filamentous protein
biologics
dna origami
CryoExpert Case Studies
Multiple simultaneous ligands structure of PKM2
About the target
PKM2 is a 473 kDa homo-tetrameric pyruvate kinase, an oncology target. It is a generally well-behaving target, which however features a flexible domain and shows a best-case scenario for the speed and smoothness of a Cryo-EM structure determination project in realistic, pharmaceutical target conditions.
Results
This case study exemplifies a 2.5 - 3.2Å resolution of PKM2 bound to two ligands: a tetramer-promoting fructose 1,6-bisphosphate as well as the TEPP activator. It highlights the ability of our workflows to simultaneously determine multiple ligands at various locations (core of the complex, periphery of the complex) while also dealing with a partially flexible domain.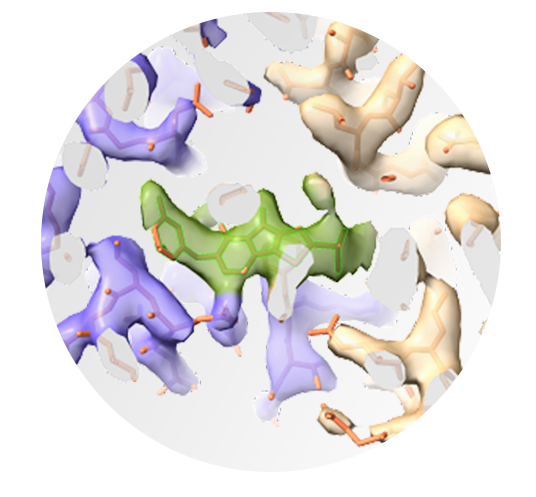 High-resolution structure of LacZ Complex
About the target
LacZ (β-galactosidase) is a 239 kDa homo-tetrameric glycoside hydrolase and is one of the first systems (apart from viruses) to have been determined to near-atomic resolution using Cryo-EM. Despite that, it is a complex that has a relatively narrow set of viable conditions and presents a host of various challenges for successful high-resolution Cryo-EM structure determination.
Results
This case study shows how we have determined a 2.1Å of this complex together with its IPTG inducer and allows you to understand our standard workflow on a real-world example while highlighting the importance of a thorough conditions optimization that our workflows can handle. Since this complex has been also determined by X-ray crystallography, it allows you to compare how our Cryo-EM map quality compares to those obtained by X-ray crystallography.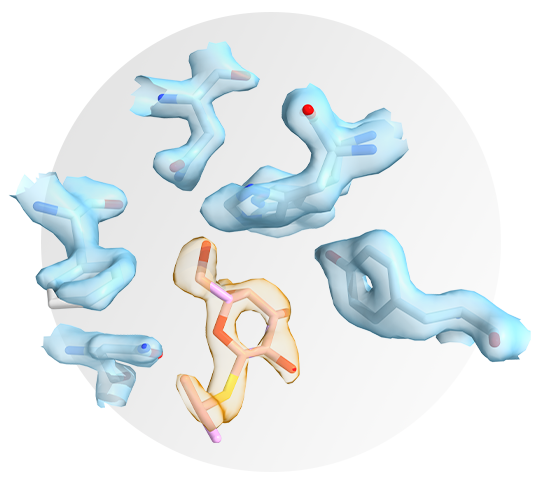 CryoResearch
Are you on the forefront with no prior Cryo-EM work on your targets of interest? With our CryoResearch service plan, we will develop a workflow for Cryo-EM structure determination of your target protein of interest from the ground up.
For experimental novel targets without prior cryo-EM work.
Time-proven workflow with frequent screening ensures efficient purification to microscope transfer.
Experience and access to a wide range of non-standard cryo-EM tools maximizes the chances of success.
Bi-weekly iteration cycles with go or no-go decision..
CryoResearch Case Studies
Novel structure of custom Cas9 Ortholog
About the target
Cas9, CRISPR-associated Protein 9, is a versatile tool for genome editing that typically presents non-trivial obstacles upon crystallization.
Results
This case study, performed jointly with our partner Crelux GmbH (a WuXi AppTec company) and Bayer AG highlights how powerful a combination of X-ray crystallography and Cryo-EM can be in evaluating multiple candidate constructs. In this study, four different complexes (two constructs, two states each) were analyzed, three by X-ray crystallography and one that failed to crystallize by Cryo-EM, with the Cryo-EM determined structure reaching 2.8Å resolution, the highest across all four samples.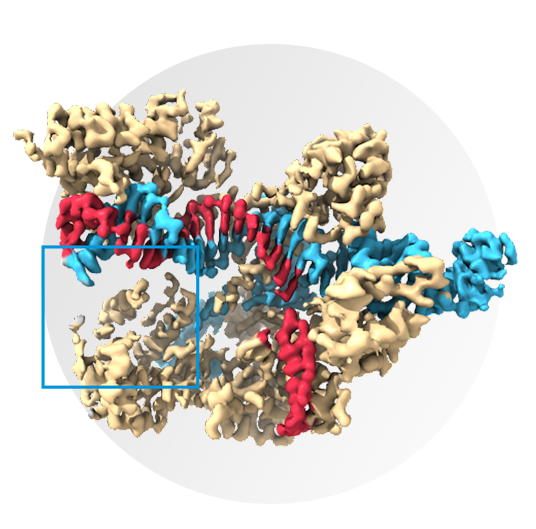 Get in touch!
Are you interested in exploring our Cryolibrary in detail?
Do you want to learn what is would mean to process your target of interest?
Testimonials
What Our Customers Say
Lukas and his team at Eyen do consistently excellent work for us. We use their services routinely for grid screening and cryo-EM feasibility determination.
Joseph Batchelor
Principal Scientist - Structural Biology
Sanofi US
I was satisfied. The method gives scientific insight into concrete morphology and is a confirmation / crosscheck to other suitable methods. Also the field of bio pharmaceuticals will significantly benefit from this.
Andrea Weiland
Managing Director
Explicat Pharma GmbH
Eyen has worked tirelessly on our challenging structural projects. The team has rapidly optimized grid preparations and acquired images on membrane protein and protein:protein complexes. Furthermore, they have worked through extremely challenging datasets.

Throughout the projects, Lukas has maintained the lines of communication in order to achieve project goals as quickly and efficiently as possible. Very happy with the service and will continue to work together on future projects when possible.
Robert Healey
Postdoctoral scientist
INSERM, University of Montpellier, France
contact us
Have any questions about our services?
Contact us directly and meet with our Cryo-EM team.
Our Office Locations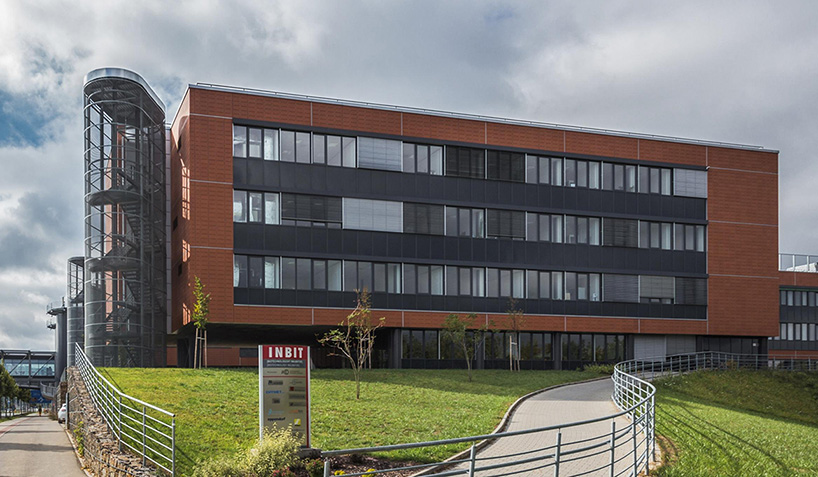 Brno
Eyen SE
Kamenice 771/34
625 00 Brno - Bohunice
Czech Republic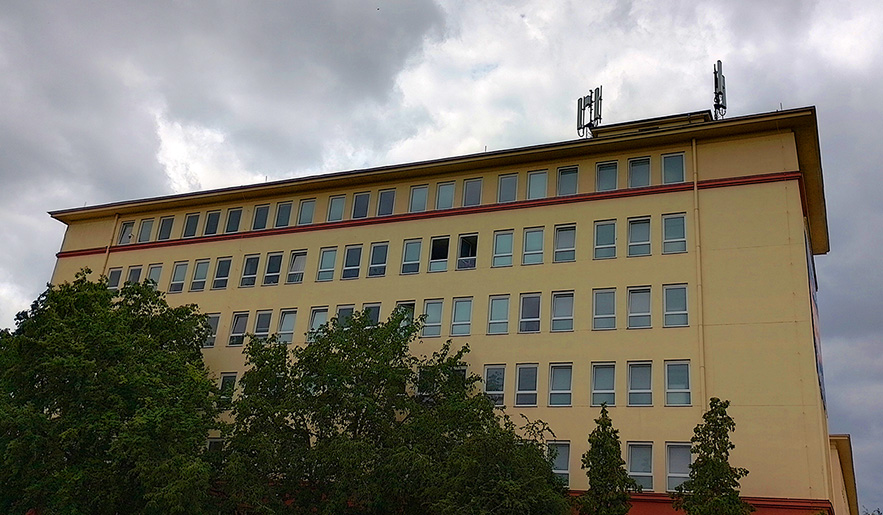 Prague
Eyen SE
Počernická 272/96
108 00 Prague 10
Czech Republic